Sever Acute Respiratory Syndrome Coronavirus 2(SARS-CoV-2),the causative agent of the Coronavirus disease(Covid-19) pandemic, has so far resulted in more than 1.1M deaths and 40M cases worldwide with no confirmed remedy yet available. Since the frist outbreak in Wuhan, China in December 2019, researchers across the globe have been in a race to develop therapies and vaccines against the disease.SARS-CoV-2 ,similar to other previously identified Coronaviridae family members, encodes several structural proteins , such as spike , envelope , membrane ,and nucleocapsid, that are responsible for host penetration , binding ,recycling, and pathogensis. In the winter of 2020,many areas second burst, the medical testing institutions have a lot of testing pressure, If a crowd gathers, it is very susceptible as well. So to test by self in home will be Desperately .The SARS-CoV-2 Antigen Rapid Test Kit is a lateral flow chromatographic immunoassay for the qualitative detection of SARS-CoV-2 Antigen in human saliva specimens. Saliva test will be easier than swab test. People don't need to collect the specimen in deep throat and Oropharynx. It will be more comfortable than swab test.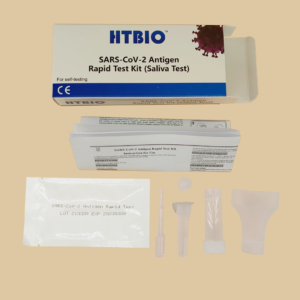 The SARS CoV-2 Antigen Rapid Test(Saliva Test) is a lateral flow chromatographic immunoassay. The test cassette consists of: 1)a burgundy colored conjugate pad containing Mouse anti-SARS-CoV-2 antibody conjugated with colloid gold (SARS CoV-2 conjugates) and mouse IgG-gold conjugates, 2) a nitrocellulose membrane strip containing two test bands (test band) and a control band (C band). The test band is pre-coated with Mouse anti-SARS-COV-2 antibody .The C band is pre-coated with goat anti mouse IgG.

When an adequate volume of test specimen is dispensed into the sample well of the test cassette, the specimen migrates by capillary action across the cassette. SARS-CoV-2virus if present in the specimen will bind to the monoclonal mouse anti- SARS-CoV-2 antibody conjugates. The immunocomplex is then captured on the membrane by the pre-coated mouse anti- SARS-CoV-2 antibody, forming a burgundy colored T band, indicating a Covid-19 antigen positive test result. Absence of test band (T) suggests a negative result. The test contains an internal control (C band) which should exhibit a burgundy colored band of the immunocomplex of goat anti rabbit IgG/rabbit IgG-gold conjugate regardless of the color development on any of the test bands. Otherwise, the test result is invalid, and the specimen must be retested with another device.
Products List
Rapid Test Kits
line
Catalogue
Product Name
Specification
Specimen
1
RF101101
SARS-CoV-2 IgG/IgM rapid test kit
25 tests/kit
Whole blood/serum/plasma
2
RF101102
SARS-CoV-2 IgG/IgM rapid test kit
1 tests/kit
Whole blood/serum/plasma
3
RF101201
SARS-CoV-2 IgG/IgM/IgA rapid test kit
25 tests/kit
Whole blood/serum/plasma
4
RF101202
SARS-CoV-2 IgG/IgM/IgA rapid test kit
1 tests/kit
Whole blood/serum/plasma
5
RF101301
SARS-CoV-2 Antigen rapid test kit
25 tests/kit
Oropharyngeal swab/ Nasopharyngeal swab
6
RF101302
SARS-CoV-2 Antigen rapid test kit
1 tests/kit
Oropharyngeal swab/ Nasopharyngeal swab
7
RF101303
SARS-CoV-2 Antigen rapid test kit
25 tests/kit
Saliva
8
RF101304
SARS-CoV-2 Antigen rapid test kit
1 tests/kit
Saliva
9
RF101401
SARS-CoV-2 Neutralizing Antibody rapid test kit
25 tests/kit
Whole blood/serum/plasma
10
RF101402
SARS-CoV-2 Neutralizing Antibody rapid test kit
1 tests/kit
Whole blood/serum/plasma
11
RF101501
SARS-CoV-2 Total Antibody and Neutralizing Antibody Comb rapid test kit
25 tests/kit
Whole blood/serum/plasma
12
RF101502
SARS-CoV-2 Total Antibody and Neutralizing Antibody Comb rapid test kit
1 tests/kit
Whole blood/serum/plasma
13
RF101601
SARS-CoV-2 Nucleocapsid protein Antibody and Neutralizing Antibody Comb rapid test kit
25 tests/kit
Whole blood/serum/plasma
14
RF101602
SARS-CoV-2 Nucleocapsid protein Antibody and Neutralizing Antibody Comb rapid test kit
1 tests/kit
Whole blood/serum/plasma
15
RF101701
Influenza A and B Antigen rapid Test Kit
25 tests/kit
Oropharyngeal swab/ Nasopharyngeal swab
16
RF101702
Influenza A and B Antigen rapid Test Kit
1 tests/kit
Oropharyngeal swab/ Nasopharyngeal swab
17
RF101801
SARS-CoV-2 Antigen and Influenza A & B Antigen rapid Test Kit
25 tests/kit
Oropharyngeal swab/ Nasopharyngeal swab
18
RF101802
SARS-CoV-2 Antigen and Influenza A & B Antigen rapid Test Kit
1 tests/kit
Oropharyngeal swab/ Nasopharyngeal swab
Uncut sheet
line
Catalogue
Product Name
specification
specimen
1
RS101101
SARS-CoV-2 IgG/IgM rapid test kit
6cm*30cm
Whole blood/serum/plasma
2
RS101201
SARS-CoV-2 IgG/IgM/IgA rapid test kit
6cm*30cm
Whole blood/serum/plasma
3
RS101301
SARS-CoV-2 Antigen rapid test kit
6cm*30cm
Oropharyngeal swab/Nasopharyngeal swab
4
RS101303
SARS-CoV-2 Antigen rapid test kit
6cm*30cm
Saliva
5
RS101401
SARS-CoV-2 Neutralizing Antibody rapid test kit
6cm*30cm
Whole blood/serum/plasma
6
RS101501
SARS-CoV-2 Total Antibody and Neutralizing Antibody Comb rapid test kit
6cm*30cm
Whole blood/serum/plasma
7
RS101601
SARS-CoV-2 Nucleocapsid protein Antibody and Neutralizing Antibody Comb rapid test kit
6cm*30cm
Whole blood/serum/plasma
8
RS101701
Influenza A and B Antigen rapid Test Kit
6cm*30cm
Oropharyngeal swab/Nasopharyngeal swab
9
RS101801
SARS-CoV-2 Antigen and Influenza A & B Antigen rapid Test Kit
6cm*30cm
Oropharyngeal swab/Nasopharyngeal swab
Raw Materials
line
Catalogue
Product Name
Source
Note
1
MR900102
SARS-CoV-2-NP antigen
Ecoli
Conjugate
2
MR900302
SARS-CoV-2-S-RBD antigen
HEK293
Conjugate
3
ET000101
Mouse anti human IgG antibody
Mouse
Coating
4
ET000201
Mouse anti human IgM antibody
Mouse
Coating
5
MC900301
Mouse anti-Covid-19 antibody
Mouse
Conjugate
6
MC900302
Mouse anti-Covid-19 antibody
Mouse
Conjugate
7
MC900401
Mouse anti-Covid-19 antibody
Mouse
Conjugate
8
MC900402
Mouse anti-Covid-19 antibody
Mouse
Conjugate
9
MC900501
Mouse anti-Covid-19 antibody
Mouse
Conjugate
10
MC900502
Mouse anti-Covid-19 antibody
Mouse
Conjugate
11
EC00101
Mouse IgG Antibody
Mouse
Coating
12
EC00102
Goat Anti-mouse IgG Antibody
Goat
Conjugate
13
EC00201
Rabbit IgG
mouse
Coating
14
EC00202
Goat anti-rabblit IgG
goat
Conjugate
15
MR900401
SARS-CoV-2-ACE2 antigen
HEK293
Coating
16
MR900501
SARS-CoV-2-ACE2 -Fc antigen
HEK293
Coating
17
MR900602
CSARS-CoV-2-S-RBD antigen
HEK293
Conjugate
18
MR900702
CSARS-CoV-2-S-RBD-Fc antigen
HEK293
Conjugate
19
EC000301
Chicken IgY
Chicken
Coating
20
EC000302
Goat anti-Chicken IgY antibody
Goat
Conjugate
21
EN000201
Blocking Antibody
Mouse
/
22
EN000101
RBC Antibody
Mouse
/