Dear Friends.
Please note that our office will be closed from Thursday, January 19, 2023 to Sunday, January 29, 2023 for the Chinese New Year holiday.
We will resume normal business on Monday, January 30, 2023.
Thank you very much for your continued support of our company.
We wish you all a Happy Chinese New Year and a New Year full of success and joy!
Happy Holidays and prosperity!
(Only orders will be taken and not shipped during the holiday period, so please understand for any inconvenience caused to you.)
Bio-mapper Team
January 18, 2023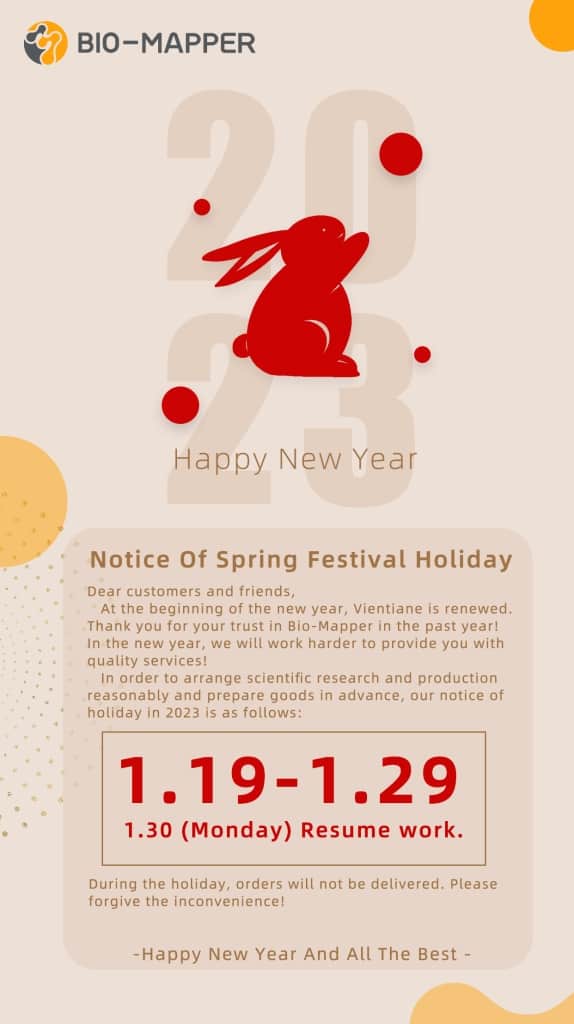 Ningbo Maiyue Biotechnology Co., Ltd. was founded in 2018. Since its inception, the company has focused on the research, production, sales and service of biologically active raw materials for in vitro diagnostics, and is committed to providing leading and competitive cores for global in vitro diagnostic reagent manufacturers Raw materials and related ancillary product services. Maiyue Bio has won wide acclaim from customers for its excellent products and high-quality services.
With the mission of "promoting national independent brands", Maiyue Bio is committed to becoming an in-depth cooperative service partner of global in vitro diagnostic companies and one-stop solutions to customer needs. On the road of high-quality and high-speed development, adhere to the customer's position, innovate independently, and insist on win-win cooperation.